ParaMed Home Healthcare launches new state of the art client and family friendly website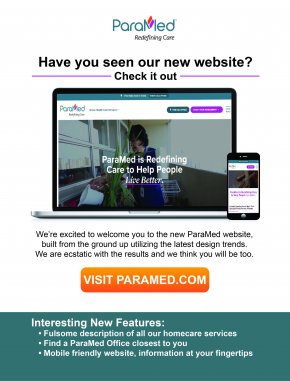 Markham, ON (August 18, 2017) - ParaMed is pleased to announce the release of our new and updated website. The new website shows the wide range of services that we offer in homecare as well as in the health and wellness arena. Services include personal care, homemaking, therapy and nursing services. These services are delivered by our highly engaged team members who help our clients live better by redefining care every day.
The previous ParaMed website was launched ten years ago and the organization has grown and changed considerably since that time. With the acquisition of Revera Home Health in May 2015, ParaMed doubled in size and became one of the largest home healthcare operators in Canada. The expectations of clients and their caregivers have also significantly changed since that time and the new website needed to reflect their needs.
"We refreshed and re-branded our look in 2016 and we've added new services - so the new website is a reflection of ParaMed today", said Rik Luneburg, ParaMed's Vice-President. "Our new website also keeps in mind the need to empower caregivers. We feature resources that are helpful to families and caregivers who are integral part of our clients' lives."
Check out the new public face of ParaMed at www.ParaMed.com.
About ParaMed
ParaMed Home Health Care has spent nearly half a century caring for people in their homes, offering a full range of home health care services including personal care, homemaking, therapy and nursing services. But beyond the medical and personal support, ParaMed offers more to our clients by not just considering their condition but their character. Our ability to successfully match caregivers with clients has allowed us to grow into the largest home care team in Canada. With over 10,000 staff members and 75,000 clients, we ensure your family members receive a familiar face and dignified care. We ensure our care providers are fully trained, have access to ongoing training, have the necessary coordination and management support, are properly supervised and coached on best practices. We have programs and specialty teams in place to support employees from recruitment throughout their career at ParaMed to learn, grow, and provide excellent care. Our commitment to our employees and the work they do means that you can expect exceptional care providers who are well trained, supported, and engaged.
Media Inquiries:
Sofia Mavumba
Communications Manager,
Extendicare/ParaMed
Tel: 905-470-5494