ParaMed Home Health Care Accredited with Exemplary Standing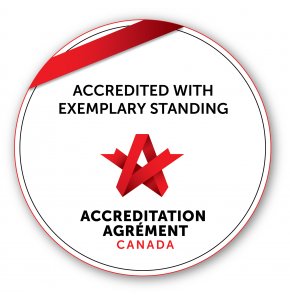 MARKHAM, ON (October 26, 2017) – ParaMed Home Health Care, a division of Extendicare, is being Accredited with Exemplary Standing by Accreditation Canada. This distinction is the highest level of accreditation; it is awarded to organizations that go beyond the requirements of Accreditation Canada and demonstrates excellence in quality improvement.
In order to receive exemplary standing, an organization must have met all required organization practice tests for compliance and 95 per cent or more of the high priority criteria in each group of standards. ParaMed scored about 99.6 percent overall and met 562 of the 564 applicable standards.
"Our passion for quality improvement is driven by our desire to always do what's best for our clients, their families and as importantly, our funders and the community. What they say and believe is what is most important to us," said Rik Luneburg, Vice President of ParaMed". "This accreditation result is the hard work of our team each and every day in a dynamic health environment."
Exemplary Standing has now been achieved by ParaMed as well as Extendicare's Ontario long-term care homes" said Tim Lukenda, President and CEO of Extendicare. "This is a testament to our commitment to quality and our desire to continue to improve. We are proud of the effort our entire team demonstrates on a daily basis to help people live better."
Accreditation is part of a national external peer review process, designed to promote excellence in quality and safety of patient care. Surveyors of Accreditation Canada, an independent not-for-profit organization which accredits over 1,100 health care and social service organizations in Canada and around the world, surveyed ParaMed's employees at their various branches and met with staff, clients and family members to ask about the quality of care provided and received.
"This is a milestone to be celebrated, and we congratulate you and your team for your commitment to providing safe, high quality health services", said Julie Langlois, RN, PhD Chair, Accreditation Decision Committee.
ParaMed is committed to ensuring that we continue with the high standards we have set up for ourselves to continue to meet the needs of our clients.
About ParaMed
ParaMed is Canada's largest home care organization and offers a full range of home care services which include personal care, homemaking, therapy and nursing services, such as wound and palliative care to clients. ParaMed's qualified and highly trained workforce of 11,800 individuals provide 11 million hours of care across 41 locations in six provinces. ParaMed's success and growth stems from everyone, at all levels of the organization, honoring every day our five core values of compassion, innovation, reliability, optimism, and connectivity. Learn more at www.paramed.com.
Media Inquiries:
Sofia Mavumba
Communications Manager,
Extendicare/ParaMed
Tel: 905-470-5494