Extendicare London on CBC News: 'Love everyday'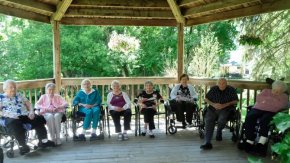 What's the secret to a long, happy life?
Well, some people are sharing their wisdom as they prepare to celebrate a milestone few have had the chance to achieve: becoming a centenarian.
Eight residents at the Extendicare London long-term care home are celebrating their 100th year together Thursday with their friends and family.
While some of them have officially had their birthday, others are looking forward to celebrating the occasion later this year. Some are even 101.
Looking back on the last 100 years, residents shared their bucket lists, advice for the next generation and fondest memories as they reflected on their lives.
Click here to read the full story!