Celebrating Caregivers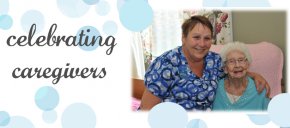 May is the month that we celebrate our caregivers. National Nursing Week runs from May 9 to May 16th this year and Personal Support Worker/Health Care Aide day is on May 19th. These caregivers are crucial to all of Extendicare's operations.
We employ thousands of caregivers across our organization. They have many different titles - Registered Nurse, Licensed Practical Nurse, Continuing Care Assistant, Health Care Aide, and Personal Support Worker – but they all provide a vital service. They work in our retirement homes, our long-term care centres, our home health care division and with our management and consulting services. We also use the talent and expertise of our caregivers in our group purchasing division to help us make smart purchases that will work for our residents, clients and staff. These team members are our leaders, our front line workers and they are with our clients and residents through every step of their health care journey.
The Canadian Nurses Association theme for this year's National Nursing Week is "Nurses: With you every step of the way". This emphasizes how important nurses and caregivers are in our lives — at every age, in all health situations. I have had the great privilege of working with many incredible caregivers in organizations across the country. I have seen them go to the extra mile to help a client in her final days stay at home, I have watched them take a few extra minutes in the morning to ensure a resident's hair is done the way they like, and I have been excited for them when they become a citizen after moving here from abroad to use their caregiving skills in Canada.
I want to thank all of the caregivers that work with us and encourage everyone to continue to live our mission of helping people live better.
By Michael Harris, Vice President - Western Operations